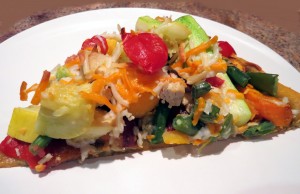 Heart Easy™ Pumpkin Crust Pizza with Veggies!
This recipe is easy to make with a counter top stand mixer. It is excellent if you have a dough hook for the second half of the preparation.
Ingredients:
1 cup warm water
1 envelope active dry yeast
2 tablespoon honey
1/2 cup canned pumpkin
2 tablespoons olive oil (I used an herbed variety)
3/4 teaspoon coarse kosher salt
1-1/2 cups unbleached bread flour
2 cups white whole wheat flour
*1 teaspoon minced garlic (optional)
Directions:
Place the yeast in a cup of warm water – not too hot or you'll kill the yeast. Allow to sit until frothy — about 10 minutes.
Add the honey, olive oil, and pumpkin and mix gently on a low speed until combined and smooth. *(Sometimes I like to add minced garlic to the dough to give it a garlicky taste. If you enjoy that taste, add it now.)
Mix together the flour and salt in a large bowl. Add the dry ingredients to the mixer. Combine on low speed until moistened. Change mixer to a dough hook.
Mix for about 2 minutes. You can now knead by hand, or allow the mixer to keep needing for you about 3 more minutes on low. Hand knead for 5-7 minutes.
You want your ball of dough to be elastic, but not sticky. You may need to add extra flour.
Lightly oil a large bowl and place the dough ball inside it. Turn ball around in bowl to coat all sides with oil. Cover with a damp towel or plastic wrap and let rise for 2 hours.
Once the dough has risen, preheat your oven to 425 degrees F, put in a pizza stone (you may use a pan, too, but I like how it gets crispy with a stone), and divide the dough into two equal pieces.
If you're planning to use the other half the next day, just put it in a large Zip-Lock bag and store in the fridge. The dough will freeze for up to three weeks.
Roll out dough into a round shape. Place on pizza paddle or on a pizza pan, as you choose.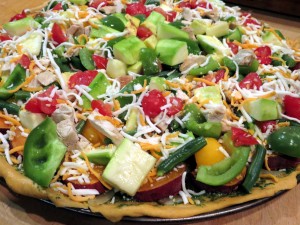 When your pie is formed, use a coating low fat, low sodium pizza sauce, veggies, pre-cooked chicken or shrimp, broccoli, tomatoes, corn, SoySation® Three Cheese Blend, The Original Almond or Rice Cheeze Mozzarella flavor.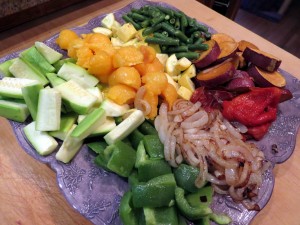 Pile the veggies on high. Pre-cooked butternut squash cubes or acorn squash turns this pizza into a heavenly, rich, delicious harvest delight. It's a good idea to lightly pre-cook the broccoli and cauliflower before putting it on the pizza so the veggies are tender.
Reduce the heat in your oven to 400˚ . Bake pizza for 20-35 minutes depending on how high your veggies are. Check it after 20 minutes for golden doneness.
Share and Enjoy