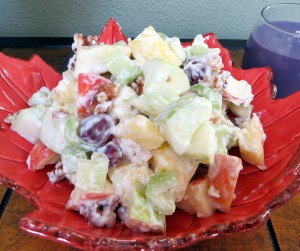 This recipe is quick, easy to make and delicious.
It's so versatile that you can add some chopped, roasted chicken or turkey
breast to make it a complete meal if you like.
 Ingredients
1 red apple (such as Red Delicious, Fuji, Rome or Gala)
1 yellow apple (such as Golden Delicious)
1 green apple (such as Granny Smith)
1 cup chopped celery
1-cup pineapple tidbits or chunks
1-cup red or green seedless grapes
1/2 cup chopped pecans or walnuts
1/4 cup low fat mayonnaise
Directions:
Drain pineapple tidbits and reserve juice for coating apples.
Remove core and seeds and cut the unpeeled apples into chunks.
As you cut the apples, place them in a small bowl with the pineapple juice to coat apple chunks and prevent browning. Drain just before combining all ingredients.
Combine all of the ingredients in a large bowl. Gently stir to coat mixture with the mayonnaise.
You can serve this salad on lettuce leaves or just by itself.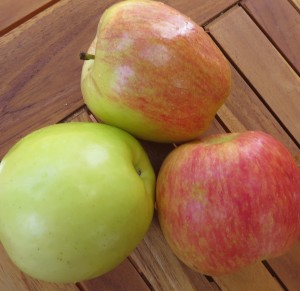 Share and Enjoy