If you are interested in living a long and healthy life the Heart Easy™ Cookbook is for you. With Heart Easy™ recipes you lose the saturated fats and keep the delicious taste.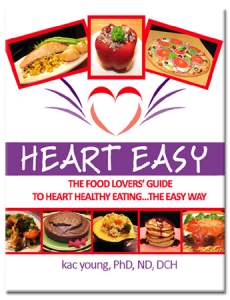 The First Twenty Five Pages of the Cookbook Show You:
How you can eat to support your heart and prevent heart disease
My personal discoveries about cooking for heart health
*Recommendations for fantastic heart-healthy products you should be using instead of the ones that are killing you
"I love the size of the cookbook. The photos are great! I love all the mid-way shots, too. And, of course, I love heart smarts. Bad oils, good oils is always a mind-bender. And my most favorite page in the whole book… the sample labels. People talk all the time about labels but you showed us how to read them and what to look for. Excellent cookbook and my new favorite." ~ Tracy A.C Television Writer and Mom
The Cook Book Tells You:
Why and how you need to take care of your heart; what they didn't teach you in biology classes
Secret tips and tricks to cooking with your heart health in mind
Insider information regarding the products you SHOULD be using
Why some products could be killing you and you don't even know it
How to read labels for good heart health
How to shop for heart-healthy foods
Heart Disease is America's #1 killer but you don't have to let it get you. Protect yourself and your family by eating right for the health of your hard-working heart.
The best gift you can give your children is the key to a healthy heart and a longer life. Safeguard everyone you love with the Heart Easy™ program. Your family will be thrilled with the result of feeling better and looking great.
You don't have to limit yourself to rabbit food and your meals don't have to taste like press board to be heart-healthy. Order the Heart Easy™ Cook Book and change your eating from unhealthy to healthy, overnight.
Get the Heart Easy™ Cookbook and change your life!
Appetizers, Sauces, Soups, Salads, Main Dishes and Desserts
You'll never have to buy another cookbook.
These recipes contains everything you need to cook for a heart healthy life.
The HEART EASY™ Cookbook:
The Food Lovers' Guide to Heart Healthy Eating

Your favorite recipes re-imagined and re-created,
with a few simple steps and easy substitutions
that make them heart healthy for the entire family.

$24.95 plus tax in CA + flat rate shipping

WANT YOUR RECIPES EVEN FASTER?
Click below to order the downloadable
ePub version for Nook. $20
*I am not paid to recommended these products; they are simply the GOOD products that I discovered and I am happy to pass them along to you.
Share and Enjoy