Have a Heart Healthy Mother's Day.
by Kac Young PhD, ND, DCH
For fun, I Googled "Mother's Day Menus" and discovered that most of the recipes were highly unsupportive of heart health. One of the nicest things we can do to honor our mothers, and be honored if we are a mother, is to cook a heart healthy meal to show how much we value "Mom."
Say "I love you," with a meal that promotes heart health and tells her you want her to be around for a long, long time.
Part One of this article is filled with ideas for cooking for mom. Part Two contains suggestions for ordering heart healthy in a restaurant or at a brunch buffet. They can help you stay healthy.
Part One: Cooking with Love for Mom:
If you are making dinner or a brunch for Mom then please choose a meal that features a low fat main dish and sides that will keep her heart healthy.
Suggested menu: Heart Easy ™Roasted Citrus Chicken; Heart Easy™ Roasted Garlic, Grilled Avocado Mashed Potatoes; Heart Easy™ Fast & Easy Corn Pudding with Veggies. You'll be too full for dessert, but if you insist, stick to fresh berries without the whipped cream.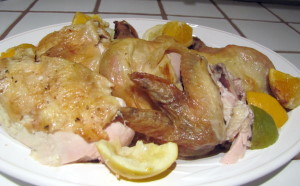 Heart Easy ™Roasted Citrus Chicken
This entree roasts up beautifully moist and tenderly infused with four citrus flavors and garlic.
Ingredients:
1, 5 lb whole, low sodium, hormone free, chicken.
1 lemon, cut into 8 pieces
1 lime, cut into 8 pieces
1 orange cut into 8 pieces
6 cloves of garlic, crushed
Tangerine infused olive oil*
Fresh ground black pepper
Directions:
Wash chicken and remove giblets. Pat dry.
Using a chopstick or a small spatula gently lift and separate the chicken skin from the raw breast meat. Carefully spread 1/2 of the crushed garlic under the skin and then repeat for the other chicken breast.
Press the garlic evenly under the skin.
Mix the lemon, lime and orange pieces together and push them into the chicken cavity. Close the cavity and secure with a small skewer or a couple of toothpicks.
Rub the exterior of the chicken with 1 T of the tangerine olive oil.
Place in a roasting pan. Cover the chicken breast, wing tips and drumstick tips with foil. Bake at 375˚ for 90 minutes or until chicken reaches 165˚ . Remove foil coverings after 1 hour and allow chicken to continue cooking for another 1/2 hour. Remove from heat and allow chicken to rest for 10 minutes. Carve and place on a platter for serving.
Pasolivo™ makes the Tangerine Olive Oil. https://www.pasolivo.com
You can also create your own version by grating the rind of a tangerine, adding 2 T of cold pressed virgin olive oil and let stand overnight. Drain the rind from the oil and use as directed.
Heart Easy™ Roasted Garlic, Grilled Avocado Mashed Potatoes Inspired by David Larkworthy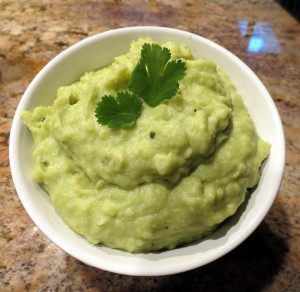 This amazing side dish is fresh, festive and delicious. It adds flair to any meal and becomes a topic of conversation immediately. Dazzle your guests with this one.
Yields: 4 servings
Ingredients:
1/2 lime,
1 1/2 Tablespoons of Smart Balance Light or I Can't Believe It's Not Butter Light
1 1/4 pounds Yukon or honey gold potatoes, scrubbed
1/2 cup non-fat milk
1 tablespoon olive or avocado oil
1/2 – 1 teaspoon white pepper
2 ripe avocados
1/2 teaspoon kosher salt
Fresh cilantro or parsley
Directions:
Scrub potatoes and cut them into 2″ pieces. Place in a microwave-safe dish and microwave 7-10 minutes until potatoes are cooked through. Set aside to cool. When cooled, peel the potatoes and place them in a bowl.
Cut avocadoes in half, remove the seed. Brush the avocado face with avocado or olive oil and place face down on a grill pan. (Pan with raised grill ribs.) Place lime face down on grill pan. Cook the avocados on medium low heat for 3-5 minutes until heated through. Cook the lime half for 2-3 minutes. Remove from heat and set aside. When the avocados are cooled enough to handle safely, scoop out the flesh and add to the potatoes.
Heat the milk and butter substitute in the microwave for :30-1:00 until butter is melted and milk is warmed. Squeeze the lime over the potato and avocado mixture, add milk, butter substitute, pepper and salt. Whip with a hand mixer or food processor. When fully blended and fluffy, turn into a bowl and serve. Top with parsley or cilantro.
Heart Easy ™ Fast & Easy Corn Pudding With Veggies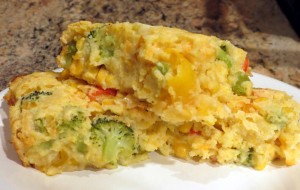 This dish is a one bowl wonder. Fix it and give yourself and your family the treat of comfort food without paying a high health price.
Ingredients:
Non-fat butter spray
3 cups canned yellow corn, drained (or 16 oz. frozen and thawed roasted corn)
1 egg plus 2 egg whites, beaten well or 1/2 cup Reddi Egg
1 cup chopped broccoli florets
1/2 cup chopped onion
2/3 cup seeded and chopped multi-colored peppers
2 Tbs. raw sugar
1/2 cup non-fat milk
1/4 tsp. ground nutmeg
2 packages of powdered butter substitute – Butter Buds
1/4 cup SoySation® 3 Cheese Blend, or The Original Almond® Mozzarella Shreds, half reserved
1/4 tsp. fresh ground pepper
1/8 tsp. Kosher salt
For a little southwest flavor add one 6 oz. can green chilies.
Directions:
Preheat oven to 350 degrees.
Spray an oven-proof casserole dish with non-fat butter spray. Beat the egg whites or Reddi Egg until fluffy (about 1 minute). Mix the rest of the ingredients together in a medium bowl and pour into prepared casserole dish.
Bake for 30 to 40 minutes or until casserole is firm. Top with the remainder of SoySation® 3 blend cheese or your choice of Lisanatti RiceCheeze® flavors or The Original Almond® Shreds. Allow cheese to melt for 1 minute before serving. Cut and enjoy.
Best Tip: You can order the cookbook Heart Easy, The Food Lover's Guide to Heart Healthy Eating and give Mom the gift of heart health. Over 300 delicious recipes to help her stay young, healthy and fit.
Part Two: Ordering Heart Healthy in a Restaurant:
It's Mom's day so you want her to enjoy her outing. But remember that you'll keep Mom around a lot longer if you follow a few heart healthy eating guidelines.
One excellent idea is to eat a healthy soup or salad before the entree. Healthy soups and salads can be filling and a good start for the meal. Avoid chowders such as clam, corn, split pea or potato and cheese. These are heavy on the butter and cream. Ask the waiter to describe what's in the soup before ordering to check for saturated fats. Order a one cup serving and not a bowl.
If you're choosing a salad remember that the salad isn't usually the problem; the dressing is! Ask for a vegetable-heavy salad and the dressing on the side to control the amount you eat. Skip the creamy, fat-laden dressings and opt for the oil and vinegar, balsamic or fat free if they offer it. Stay away from sugary Asian dressings, unless you can check the ingredients, and avoid the staples like French, Blue Cheese, Thousand Island, or Ranch. You can also be heart-smart by mixing a small amount of olive oil and lemon juice yourself. Definitely skip the croutons, cheese toppings, crumbled bacon or tortilla chips.
If you are at a salad buffet choose lettuce and greens, such as spinach and vegetables like broccoli, cauliflower, carrots, celery, bean sprouts, fresh peppers, a sprinkle of peas or corn, and a handful or red or black beans.
Taking Mom out for international cuisine? Try these heart healthy ordering tips:
When eating Chinese food you want to avoid dishes with gravies, items that are fried or deep fried and dishes that are coated and then fried or wok fried. Avoid fried rice and order brown rice instead. Do not pour the sodium-heavy sauces over the rice. If you want to taste the sauces (Hoisin, plum, sweet and sour or soy) dip your fork or chopstick into the sauce then collect a portion of rice with it to achieve just a taste. This will help you to avoid ingesting too much sodium.
Don't order the egg rolls, the fried won tons, or any deep fried appetizers. Order a Chinese chicken salad, dressing on the side and ask them to hold the crispy won tons. Skip dishes that feature fatty nuts like cashew, macadamia or sugared walnuts. Order all other dishes with nuts on the side and add only a small portion of the almonds, peanuts or walnuts.
Avoid dishes like Sweet and Sour Pork, Pork Ribs, Kung Pao Chicken, Moo Shu Pork, fried or coated shrimp items and dishes heavy with gravies or sauces. Order dishes with lean meats (preferably white meat chicken) or fish (not fried) make sure there are lots of vegetables in the dish and ask them to cook it or sauté with "light oil." Always ask for your sauces on the side!
If you are taking Mom out for Mexican food, skip all cheeses, sour cream and tortilla chips.
Order chicken, fish or shrimp fajitas, ask for "light oil" and order only corn tortillas. Limit yourself to one or two tortillas because most commercial varieties contain lard and saturated fat.
Avoid flour tortillas and the creamy sauces such as enchiladas, burritos or chimichangas. Skip the re-fried beans because they are usually high in fat. (Fat free re-fried beans are available in the grocery store so you can enjoy them at home.) Enjoy the salsa (no chips please!) and the fresh verde and salsa fresco sauces. These contain simple ingredients with low or no fat.
Treat Mom to fish with a light, fresh sauce – a great way to enjoy Mexican cuisine. Be careful of the rice because it might be loaded with lard, butter and salt. The best advice is to ask your waiter what's in a dish before ordering it. A light beer is a better alcoholic beverage choice than a sugar-packed, salt-rimmed margarita. Have beer or wine to avoid the high calories and high fructose corn syrup in the party drinks.
If Mom is craving Indian food there are many ways to eat healthy. When dining out order chicken or shrimp tandoori to avoid fatty marinades and sauces. You can also order dishes with half the sauce or simply ask for the sauce on the side. Avoid the ghee-drenched breads such as paratha or chapati and order your naan without the ghee.
Raita makes a great dip with yogurt and spices for your meal, and the rice dishes, if you ask for light oil or reduced ghee, ought to be okay. Order vegetable-heavy dishes and avoid the deep fried appetizers such as onion bhaji, papadums, pakoros and samosas. Dal is a good side dish and sauce because it is lentil-based and made with tomatoes, onions and spices. Curries can be made with ghee and coconut milk, ask about the sauce ingredients before ordering. You can request the kitchen to cook your dish with half the sauce or ask for the sauce on the side. Skip the deep fried desserts and stick with fruit.
If  Mom loves Italian food, the Mediterranean Diet provides foods that are heart healthy. Avoid the creamy, cheesey sauces like Alfredo and stick with the sauces made with fresh tomatoes and vegetables. Make sure to skip the fried, stuffed or "parmesaned" selections and stay away from the four-cheese ravioli and baked ziti. Your best bet is to order grilled chicken breast, baked fish or a pasta dish with marinara (no meat) sauce or go for the linguini and clams.
In general stay away from the steak houses and meat-oriented grills. Choose a restaurant that offers fish and chicken dishes or go vegetarian for a change.
Red wine or light beer is a good choice if you are celebrating with an alcoholic beverage. Otherwise stick with club soda.
Desserts can be a downfall if you're not careful. Choose fresh berries and skip the cream or topping. If you want a taste, have a fork full of someone else's desert. Avoid ordering your own unless it's fresh fruit, berries or low fat heart healthy. It may be tough to pass up the desserts, but you can usually enjoy sharing a nice sorbet even though it contains sugar.
The words on menus you should definitely avoid are: fried, deep fried, sautéed, basted, breaded, coated, floured, fricassee, gratin, dusted, dredged, bisque, marinated * pan fried, wok fried, au jus, creamed, creamy, cream, cheesy, smothered**, mousse, chowder, buttered, encrusted, pastry. Commit those to memory and you'll be on your way to eating heart-healthy.
* Marinated could mean high in oil, fat or sodium.
** Could mean smothered in anything. be careful of what the item is smothered in!
Heart Disease is 90% preventable according to the American Heart Association. What a wonderful way to tell Mom you care.
Share and Enjoy