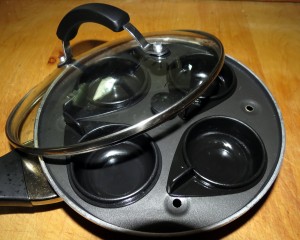 This all started with a poached egg pan I bought on sale at Macy's. I thought it was going to be an answers to my breakfast poaching problems, but it turned out to be a dud. I have since used it as a roasting pan for single chicken breasts and it does sauté garlic nicely.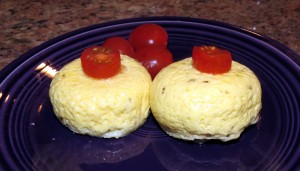 Today I came up with this breakfast idea and it works like a dream for this recipe. Turn your egg poacher into a mini soufflé maker and enjoy the results.
INGREDIENTS:
Your will need an egg poacher – a glass lid is best- and:
1/2 Cup ReddiEgg or Egg Beaters
2T chopped scallions
1 T chopped tomatoes
1 T. low fat parmesan cheese
1/4 teas. fresh ground pepper
1 T. chopped pre-cooked turkey bacon
DIRECTIONS:
Fill poacher with water, place cups in pan holder. Heat to a boil.
Spray egg poacher cups with a sprits of canola spray.
Mix all of the ingredients together and pour into poacher cups filling only 2/3 full. (They will expand.)
Cover with lid and poach for 8-10 minutes until egg mixture has risen and bottom is cooked.
Turn out onto a plate and garnish with parsley, basil, fresh fruit, a dollop of low fat Heart Easy hollandaise or anything you choose. You can also serve the souflettes on a toasted English muffin. However your serve them, they are sensational.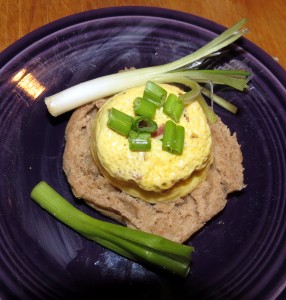 Share and Enjoy