Kac Young is a successful television director and producer, who earned a Ph.D. in Natural Health and is a Doctor of both Clinical Hypnotherapy and Naturopathy. She was one of the first few women to join the Director's Guild of America as a director, and was a prominent member of The Women in Film Board of Directors. Kac excels as a leader and an innovator in her field.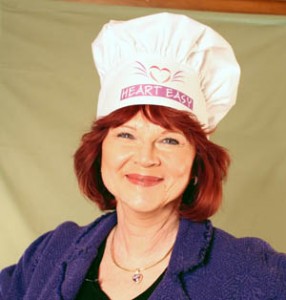 Kac created the Heart Easy™ program to help save the lives of people everywhere following her own heart attack in 2006 at age 57. The Heart Easy™ program is a system of nutritionally sound, delicious meals that promote heart health and long life. The Heart Easy™ program also includes an education in nutrition and hair-raising facts about what Americans are unconsciously eating that contributes to heart disease. Heart Easy™ is meant to assist people with busy lifestyles to cope with eating changes that can save their lives and that of their families. The results of these changes are outstanding.
Kac has won awards for television shows she has created, produced and directed. She was Vice President of Television Production and Development at Universal Studios Hollywood and ran her own company for 25 years, serving clients such as Procter & Gamble, JC Penney, Rubbermaid, and Corning. She co-founded "The Showtime Comedy Club Network" and has worked with Kelsey Grammar, Rosie O Donnell, Tim Allen and Ellen DeGeneres. Her television credits include General Hospital, The Showtime Comedy Club Network, The Mo Show, Mike and Maty, Are You Hot, The People's Choice Awards, Showtime's Comedy Club Allstars, In Concert-ABC, Concerts for MTV & VH1, and Politically Incorrect. As well as having an active television career as producer, director, and studio executive, Kac has decades of marketing, public relations and media experience.
Having witnessed first hand what job burn-out can do, Kac Young is also dedicated to healing. Kac's additional credits include:
Completed 36 courses in nutrition from Baylor University
Doctor of Clinical Hypnotherapy with a practice which includes, weight control, smoking cessation, behavior modification, stress reduction, past-life regression and phobia management
Author of ten books: "Discover Your Spiritual Genius," "Feng Shui the Easy Way," "Dancing with the Moon," "21 Days to the Love of Your Life," "Gold Mind," "Heart Easy," "Cheese Dome Power," "The Path to Fabulous," "The Quick Guide to Bach Flower Remedies," and "Supreme Healing"
Certified Master Feng Shui Practitioner and President of The Feng Shui Specialists, Inc., giving private consultations, teaching courses, classes, and presenting lectures in the art and science of Feng Shui
Certified Archetypal Therapist and counselor
Career Coach for aspiring television directors and actors
Former pilot of private airplanes
Kac's mission is to help reduce heart disease in this country by 50% in her lifetime. She intends to teach parents how to make smarter food choices and encourage them to pass this along to their children and extended families. She believes, "With informed knowledge we have the power to knock heart disease off its pedestal as the #1 ranking killer in America."
Kac is dedicated to accomplishing that goal one workshop, one kitchen at a time.
Share and Enjoy